Going away with your little one: how to make sure your child has a good night
Exploring the world with your child is one of the many exciting things parents look forward to. Whether you go on a city break or simply visit the grandparents, you want your little one to sleep as peacefully as possible throughout the night. No matter where or for how long you're going, our travel cots are always ready to come with you!
Here are our 7 best tips for a successful overnight trip with your baby or toddler: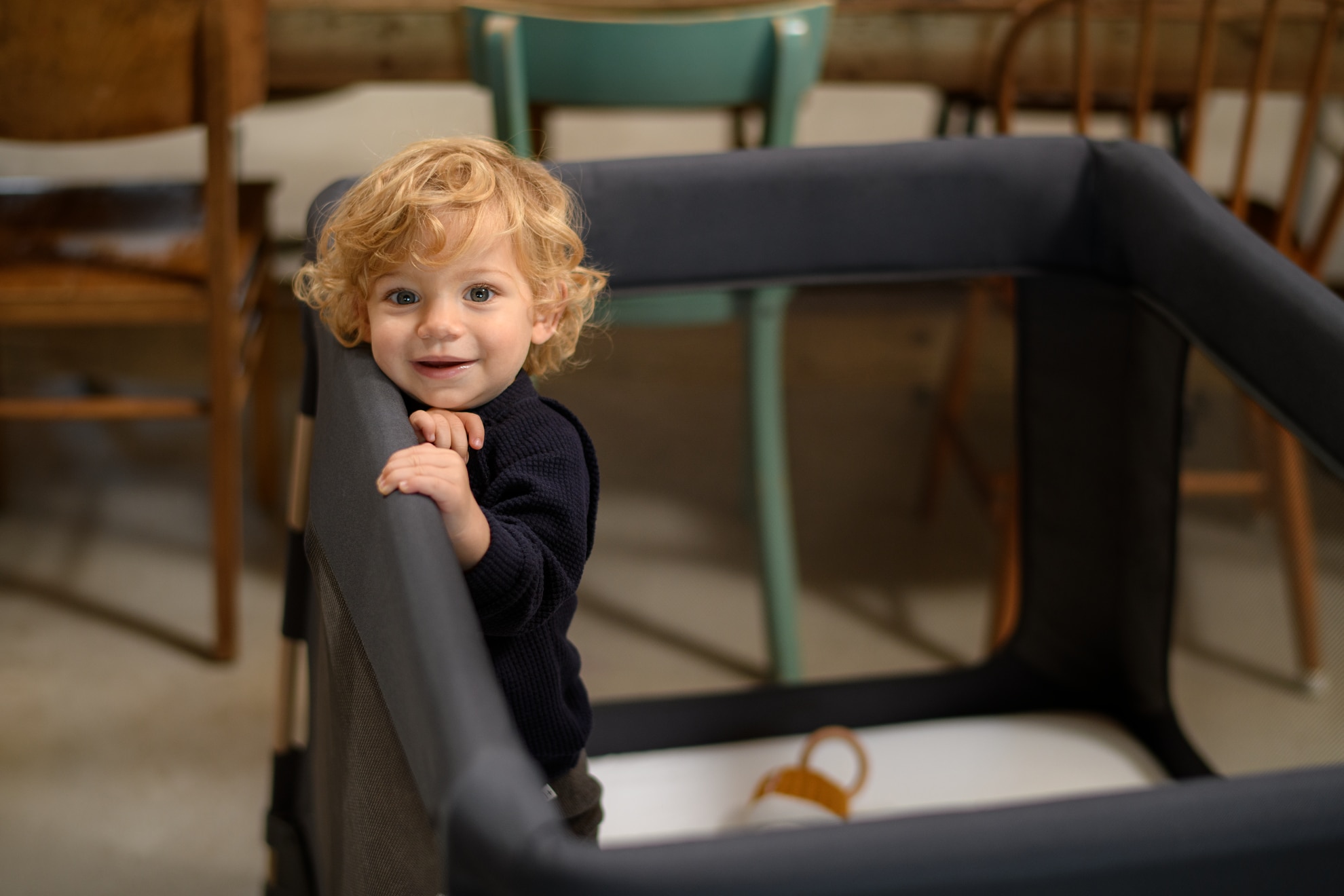 Plan your trip ahead
Planning a trip with your child can be stressful, but it doesn't have to be. By planning the trip ahead of time, you make sure everything goes smoothly. Take Maxi-Cosi Swift along to make sure you have all the portable products you need in one. The Swift is a bassinet, a toddler cot and a play yard, at the same time. If you are going on a long car journey, read our best tips for safe and comfortable trips. If you're planning on flying to your destination, consult our short guides for flying with a baby and flying with a toddler.  
Make sure you travel light
Packing for an overnight trip with your baby or toddler? Take time and think what are your everyday must-haves. Create a checklist so that you can tick off different items while packing. To make sure you travel light and your little one sleeps comfortably at night, add our Iris or Swift, to your list. Maxi-Cosi Iris is a foldable travel cot, making packing a compact luggage an easy task. Maxi-Cosi Swift is a 3-in-1 travel cot that you fold one-handed in 1 second. Both Iris and Swift come with their own travel cot bag, so no matter what you pick, you will always be ready to go!
Differentiate between day and night
It's important to help your baby differentiate between day and night. Make sure that, during the day, the room is well-lit and bright. Pull the curtains in the morning to let some natural light in and change the baby's clothes, as a sign of the start of a new day. Throughout the day, it's important to interact and play a lot with your little one. During daytime feeding, you can talk or sing to your baby. During the night, things are a little different. When your baby wakes up during the night to be fed or to have the diaper changed, make sure to keep the lights and noise to a minimum. Instead of encouraging playing, give the baby soothing cuddles. Being an adjustable height travel cot, Iris prevents you from straining your back while putting the baby in or taking him out of the travel cot.
Make sure the room has an ideal temperature
It is important that the room your baby sleeps in, has an ideal temperature of 16 to 18 Celsius degrees. In the morning make sure to open the windows so that the air can circulate. You can bring a room thermometer on the trip and place it in your baby's room, to always make sure the temperature is right. It is also helpful if the baby's cot is not placed next to heaters or radiators. The Iris travel cot weighs less than 6 kg, making it easy for you to move around the room.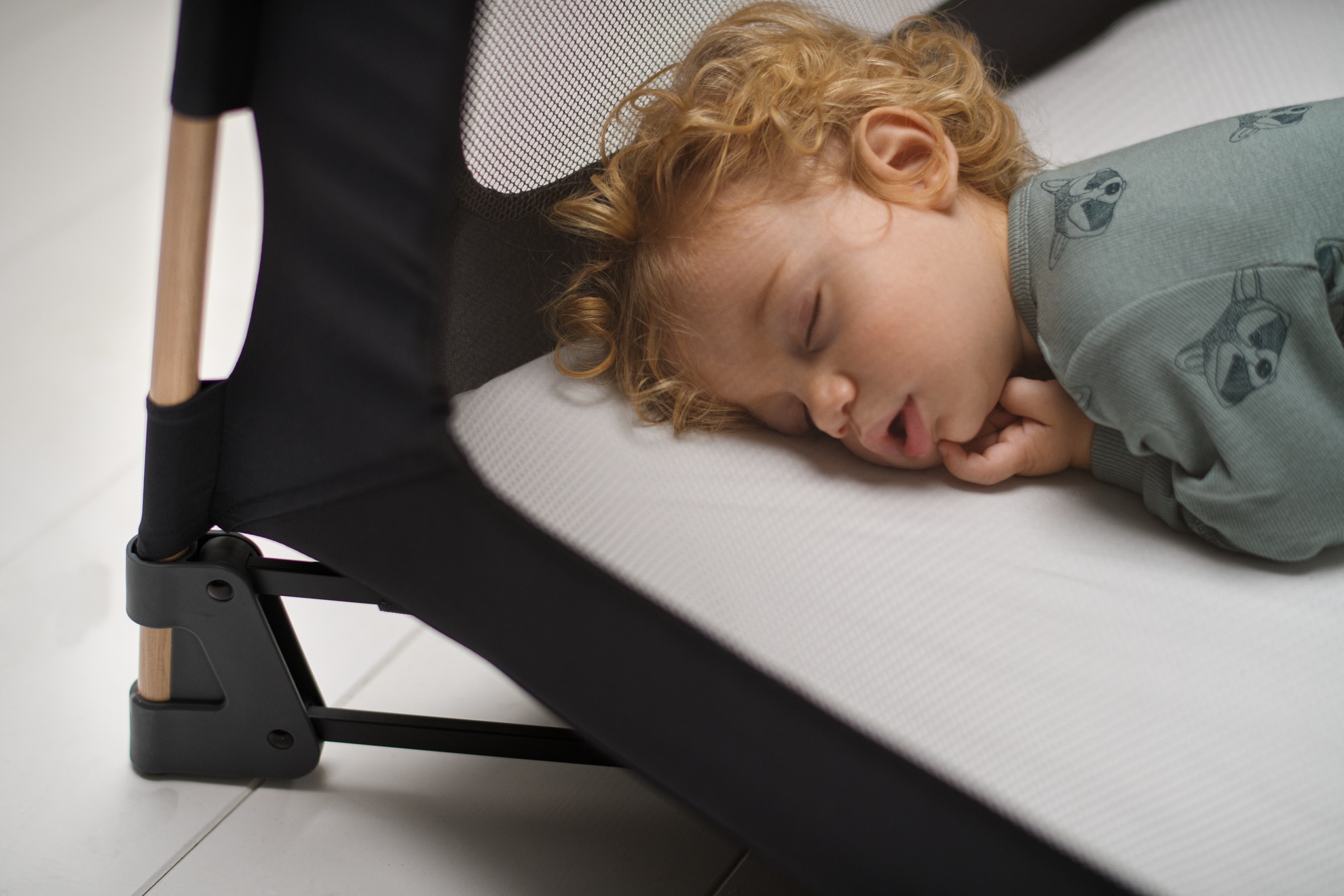 Stick to a bed-time routine
By having a simple bed-time routine your baby will, not only get used to the idea of bedtime, but also sleep better and even longer. You can start the routine from 30 to 60 minutes before the time you would like your baby to go to bed. Your bed-time routine could include: a warm bath, changing the baby into pajamas, a gentle massage or singing a lullaby. It is entirely up to you what the bed-time routine for your little one includes, just make sure that you follow as much as possible the same steps in the same order every night. And as routine becomes part of your new life as a parent, let Maxi-Cosi Swift help you out. One-step fold, lightweight and its unique 2-stage mattress that perfectly fits your newborn and later on, your toddler, are only 3 of the reasons why this multi-use travel cot is a lifesaver.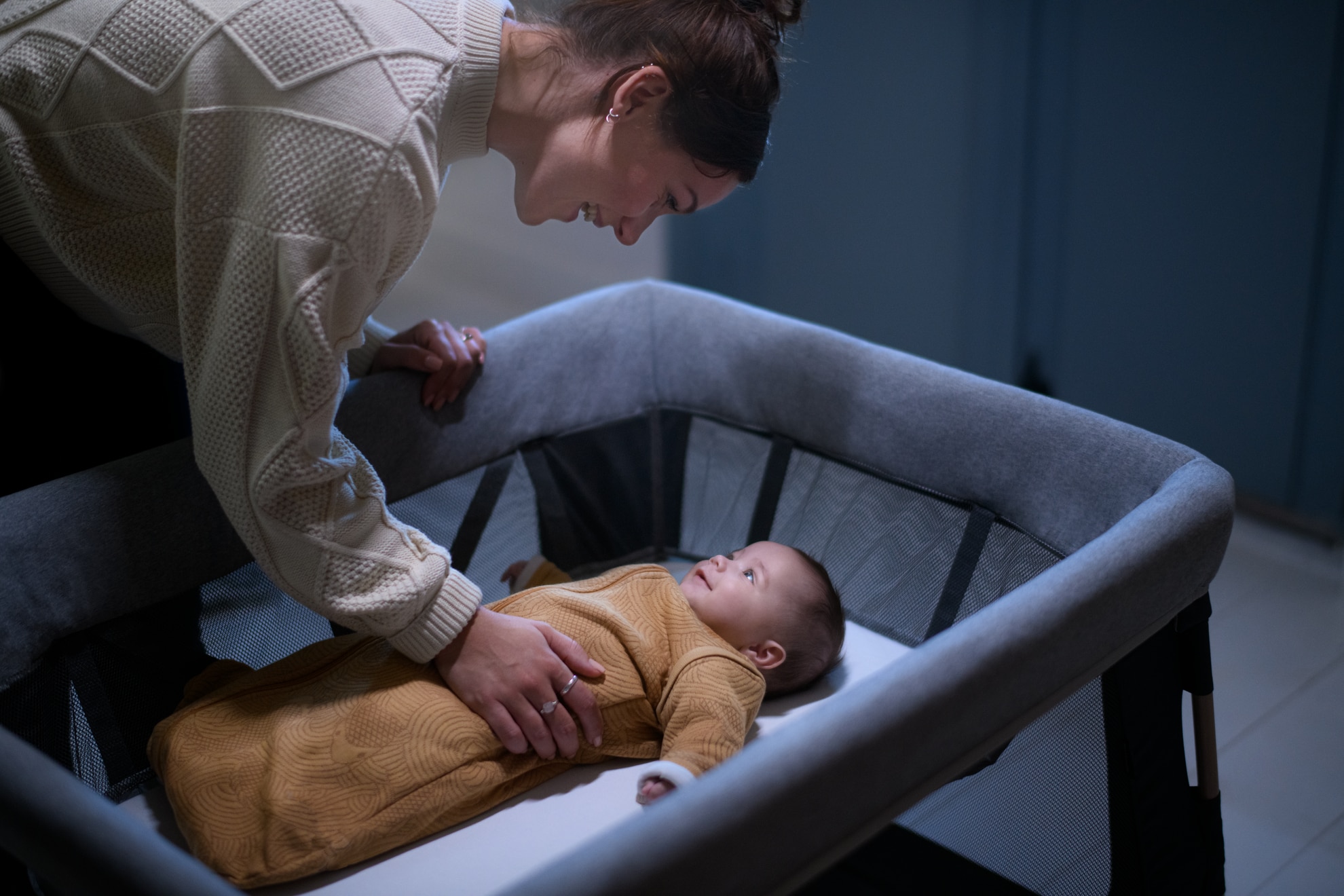 Don't overdress your child for the night
Making sure your little one is not too hot during the night will help him have a better night's sleep. Swift's mesh fabrics come in handy to keep your baby well-ventilated throughout the night. However, here are some signs that show your little one is too hot: damp hair, flushed cheeks, rapid breathing, tummy feels too hot or clammy to touch. You can check if your little one is too hot by placing two fingers on his neck or back. If he is too hot, take off one layer and check once more in 10 minutes.
Let the little one fall asleep on his own
As your baby grows older, try to give him the chance to fall asleep on his own. At the end of your bed-time routine, gently place him on his back, while using soothing sounds or words such as "shh" or "sleepy time". Repeat this to your baby as he slowly falls asleep. Due to Iris' airy design, you can still keep an eye on your little one, even after you put him down. After a few evenings, he will begin to associate these sounds and words with bedtime and find it easier to fall asleep.