e-Snooze Baby Sleep Tracker
e-Snooze Baby Sleep Tracker
is rated out of
5
by
5
.
For easier sleep, for baby and you
From birth up to approx. 12 months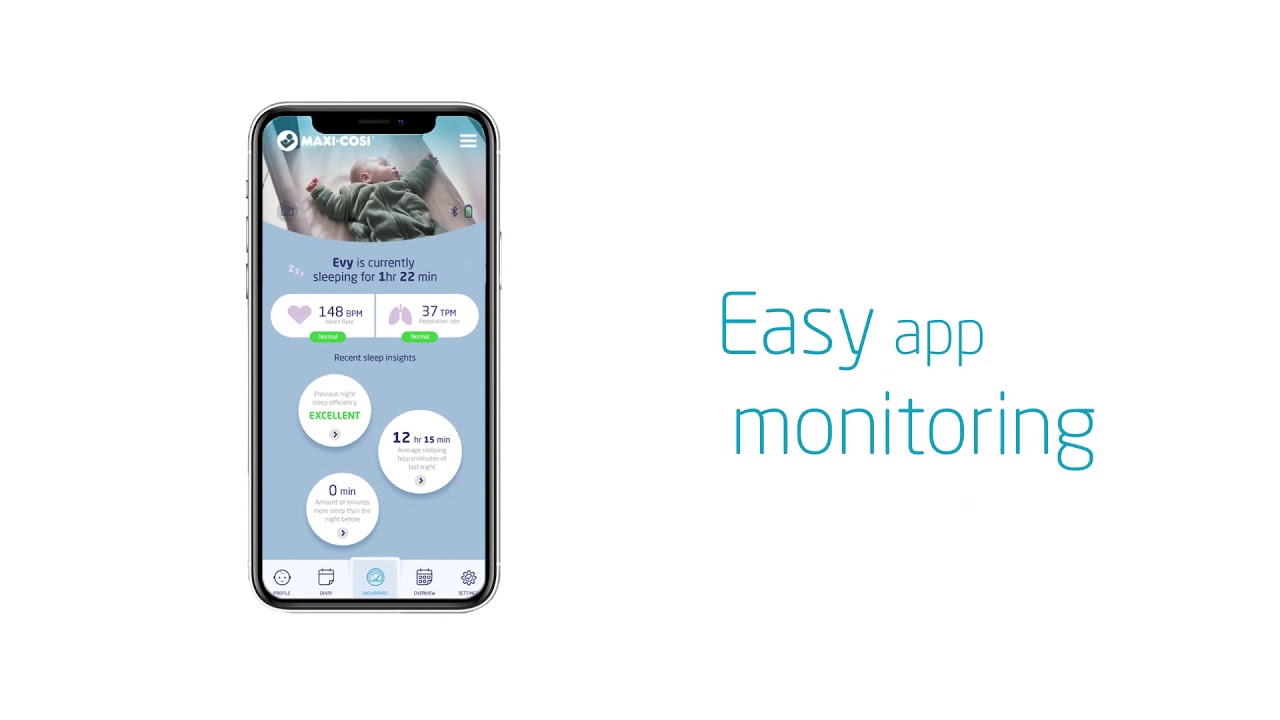 Why Choose Me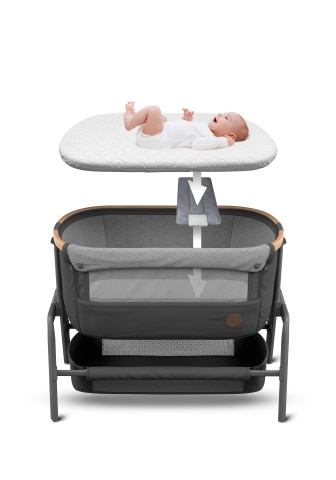 Accurate tracking
The baby sleeping mat rests under your baby's soft mattress (up to 5 cm thick) and tracks while your baby sleeps.
Less worry, more sleep
Measuring your baby's heart rate, respiratory rates and sleep cycle all at once, Maxi-Cosi e-Snooze ensures for less worries and more sleep.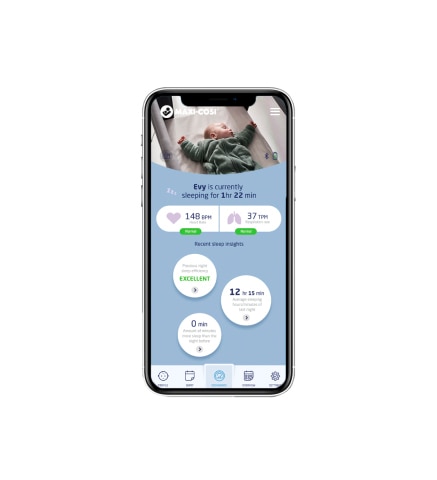 Easy app monitoring
Maxi-Cosi's e-Snooze app provides a clear overview of how your baby sleeps and alerts if anything is out of the ordinary.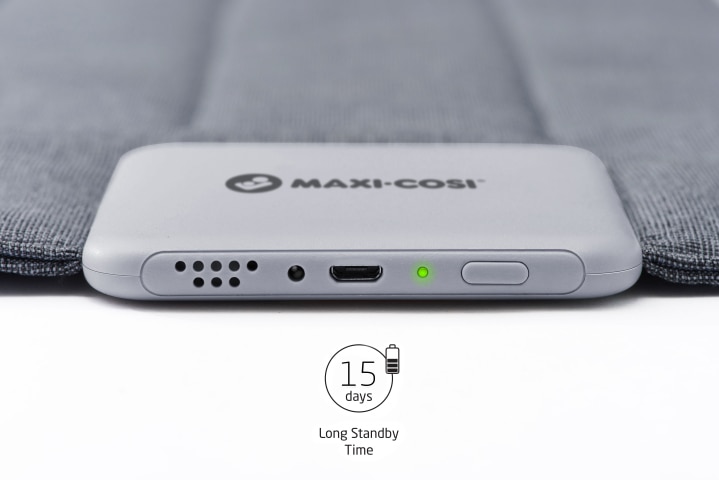 Convenient recharge
When fully charged, the baby monitor pad can be used for 15 days in a row. Easily recharge with the included USB cable.
Product description
Installation
Maxi-Cosi e-Snooze is a tracking pad, made of high-quality materials, and connected to the Maxi-Cosi Smart app. The baby sensor mat perfectly fits with our Maxi-Cosi Iora bedside sleeper, but is also suitable for any other soft mattress up to 5 cm thick.
To monitor your baby's sleep cycle accurately, tracking pad Maxi-Cosi e-Snooze is placed under their soft mattress. It automatically works while your baby sleeps. The e-Snooze application gives you a clear overview of how your little one is sleeping. Anything out of the ordinary? You will immediately receive an alert via the app on your smartphone.
Keep in mind that e-Snooze accurately tracks when placed under a soft mattress of less than 5 cm thick. Please note that the sleep tracker is designed for use on a bedside sleeper only. Easily recharge Maxi-Cosi e-Snooze with the included USB cable. When fully charged, the tracking pad can be used up to 15 days in a row.
Safety
At Maxi-Cosi, we understand that being a young parent can be overwhelming, and that you could be worried about your little one's sleep. That is why we have designed our Maxi-Cosi e-Snooze tracking pad, to provide you with peace of mind and a good night's sleep.
For easier sleep, for baby and you
Maxi-Cosi e-Snooze is created for easier sleep, both for your baby and for you as parent. The tracking pad with breathing sensor accurately tracks your little one's heart rate, respiratory rates and sleep, to provide you with a clear overview on how your baby is sleeping and to alert if anything is out of the ordinary. So everyone can get a good night's sleep tonight.
Share your Maxi-Cosi moments #myMaxiCosi
Rated

3

out of

5
by
Lina28
from
Good product
Is a good product but could do more. It was very hard to connect it to the network. Took me about 3 days to work it. Its slim, but as stated in the previous review, could do more. And the data is slow. Not so excited about it
Date published: 2021-04-12
Rated

1

out of

5
by
Amy1992lou
from
Doesn't work
I cannot use this product as it won't connect to the WiFi on numerous WiFi accounts and via numerous smart devices.
Date published: 2021-04-16
Rated

3

out of

5
by
rustyh6281
from
A great idea .. just lacking
Well I was super excited to see and hear about this product. Something that could track my baby's sleep, let me know they are ok and no issues... So straight out the the box the set up was simple. Easy positioning and quick install. Operationally, worked well. Showed me the baby's heart rate and breathing rate. But that's where it stopped really. Had to wait till 11am the next day for the nights analysis of his sleep, by then I was at work and had forgotten. When I did review it, info was limited and just really showed if it was a 'good' or excellent sleep. Some info on awake time, but was off as night mode was set from 7-7. Couldn't change it. Then basically I forgot about it. The power on the sensor Matt ran out after a few days. Which was a bit annoying.i get it needs power ... But the only time to change it is when the little one is out his cot... So again you for get once he is up, so it's has been uncharged for a few days. Over all, it's a good idea, but I wanted a little more. Alerts of sleep issues, times he would wake up and if there was a reason why. The analysis was slow, so I forgot about it. On one hand, it's good it doesn't take a lot of your life up and you forget about it, but the added value is a little limited for me.
Date published: 2021-04-07
Rated

3

out of

5
by
Fairy_hel
from
Maxi-Cosi e-Snooze baby sleep tracker (From birth up to approx. 12 months)
I have been using this now for a few weeks, as a first time parent I was concerned about the sleep pattern of my little one and wanted to make sure he was getting enough sleep. Download of the app was easy, I charged the sleep pad, plugged the receiver in and I was set up for the first night. I knew my son was not the best sleeper but after the first night I was astonished at the results; it showed he had slept for a few hours, was awake for a lot longer than I ever thought and also showed he was out of the crib, where had my baby gone? I thought it might just be the first night of getting used to it so we carried on. Every night it looks like my son is out of his crib for a period of time, this can't be as I sleep next to him and he's only 5 months. Did he move off the pad - no he was in exactly the same place as when I put him down. I am an anxious mom and I wake every hour or 1/2 hour to make sure he's ok and he doesn't move. So it's not quite accurate when tracking his sleep. There is also the breathing function which is monitored, these gave some very worrying results, showing my sons breathing rate was a lot lower than it should be, so I did some more investigating and everything seemed normal. The results initially worried me but I know my son is fine. I feel this product made me more anxious initially as it has not been accurate, instead of helping me sleep a little more knowing my son is ok, it has made me more anxious.
Date published: 2021-04-18
Rated

3

out of

5
by
ksmarston
from
Good concept, but lack of practical use means you'll forget about it
Initial setup was simple but problematic as it requires a wireless connection to a router to download firmware, which failed a couple of times despite having full signal to the router. Once set up, the super-bright glowing green ring light on the hub became distracting at night with seemingly no option to turn the light off. I had a few issues where it detected my baby was asleep when he wasn't in his cot, and other times when he was apparently out of bed when he was most definitely asleep in his cot. With no ability to delete sections of data, the only way to clear this was to remove the device and set it up from scratch again... cue firmware download issues again. When you get it running, it's interesting to see how your baby sleeps, and curiously check their heart rate and breathing rate, but with no alerting features it feels a bit redundant. More of a reflection tool than a safety tool. That said, you can only view details of the previous night's sleep after 11am the following day, which feels a bit pointless when the "night mode" ends at 7am (again seemingly no way to change this), and you want to use the data to plan the morning and day for your baby. The battery lasts a long time in the mat at around 3 weeks on a full charge, and it's unobtrusive in the cot, but aside from occasional curiosity I've not really found much use for it. It's something that could do a lot more. It's neither a safety device, nor detailed enough to be an analytical device, and too slow to provide meaningful data for the day ahead. Hopefully they'll improve it as it has a lot of potential, but right now it's definitely something I forget about.
Date published: 2021-04-16