Rock
is rated out of
5
by
5
.
A safe place for your baby
From birth up to approx. 12 months
From 45 to 75 cm
Product description
Meet Maxi-Cosi's first i-Size compliant baby car seat: the Rock! It has a unique baby-hugg inlay to give your newborn baby a comfy fit. Its easy-to-use Click & Go installation makes it easy for you as a parent to secure the seat in your car!
Installation
Maybe your baby sometimes goes for a ride with his or her grandparents, or with your in-laws. Regardless of how many different cars your little one goes for a ride in, our Maxi-Cosi Rock always fits. The baby car seat can be attached to your car seat's safety belt or to your car's ISOFIX anchorage points. The installation is clearly explained in our user manual, guiding you step by step for a secure fit.
For installation using ISOFIX, you will need an ISOFIX base. Attach the base to your car's ISOFIX connectors and leave it installed in the car. This way, our Rock car seat is snapped onto the base with a simple "click", every time you need to get in the car. Visual indicators on the base notify you when your Maxi-Cosi car seat is correctly installed and you are ready to "go".
Rock can be installed in combination with the FamilyFix One i-Size base.
We want you to feel secure about the installation of your baby car seat. That is why we collected our safest travel tips in order to help you as parents, feel sure about your little one's safety in the car.
Safety
At Maxi-Cosi we have carried over 50 million babies home from the hospital. External crash test centres, such as the German automobile organisation ADAC (Allgemeiner Deutscher Automobil-Club), regularly test our Maxi-Cosi car seats on dynamic safety and ease of use.
When the ADAC tested the Maxi-Cosi Rock with the FamilyFix One i-Size, they got high scores for safety. Our comfortable Rock car seat is equipped with a Side Protection System, meaning that in the event of a hard side impact, Maxi-Cosi Rock's SPS (Side Protection System) reduces the risk of your baby getting injured.
Additionally, we have also improved the Rock's impact-absorbing material, making the baby car seat compliant with the latest European i-Size safety standard for car seats. It gives your baby maximum safety.
The Rock also has a good rating on convenience of use, thanks to its easy-to-use Click & Go installation with an ISOFIX base. To reduce the risk of installing it the wrong way, at Maxi-Cosi, we always recommend to install our Rock car seat with the FamilyFix One i-Size base. Most first-time parents install our baby car seats correctly, thanks to its easy Click & Go installation.
A safe place for your baby
Because we care about giving parents the safest car seat, we designed our Maxi-Cosi Rock to comply with the latest i-Size car seat regulation. By adding improved impact-absorbing material to the top side of each wing, the Rock is an i-Size car seat, which means it's a super safe place for your baby in the car.
Not only is our baby car seat safe, it is comfortable for your baby and convenient for you as a parent. The seat has extra padding, and it includes a comfortable baby-hug inlay. This inlay is designed for your newborn baby's perfect fit, and for enhanced comfort and safety.
The Click & Go installation — in combination with the ISOFIX base – allows you to attach the Rock to the base with a simple "click". To avoid installing it the wrong way, the base notifies you when it has been properly attached. You can continue using the Maxi-Cosi base with a toddler car seat for longer rear-facing travel, which experts recommend for up to 4 years. That's because it gives your little one's head and neck better protection. Since you are able to use the ISOFIX base for up to 4 years, you get the best value!
Removable cover
Since our Rock will get dirty after daily use, Maxi-Cosi's car seat cover can easily be removed. It is machine washable for easy cleaning, no matter what happens.
Travel system
Going for a relaxing stroll in the park, a short visit to see your parents, or a quick stop at the supermarket? Use our i-Size car seat together with a stroller by clicking the Rock onto it.
Create a complete and practical travel system, by combining our car seat with a Maxi-Cosi stroller. They make the perfect match!
Maxi-Cosi Rock is approved for use in the airplane (TUV certification), and you can take it along with you on holiday.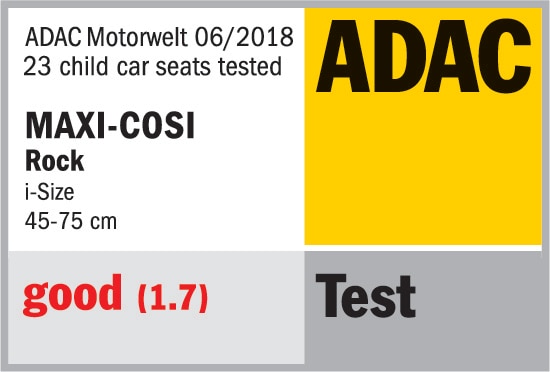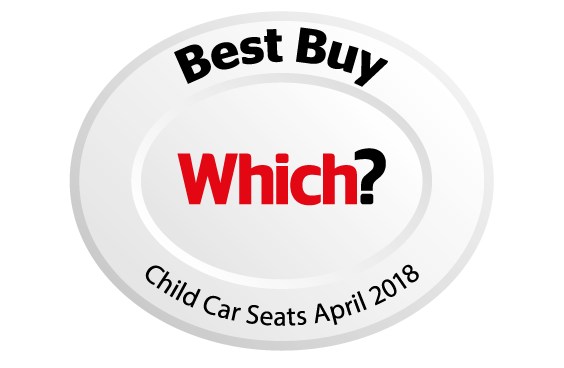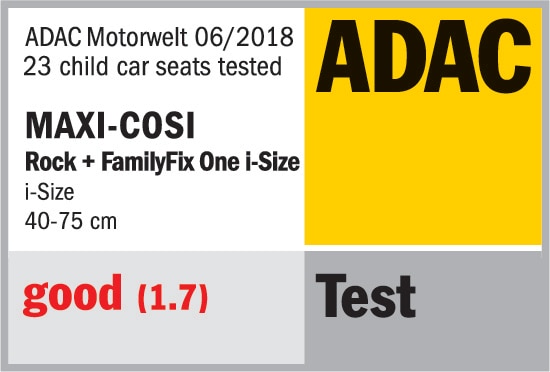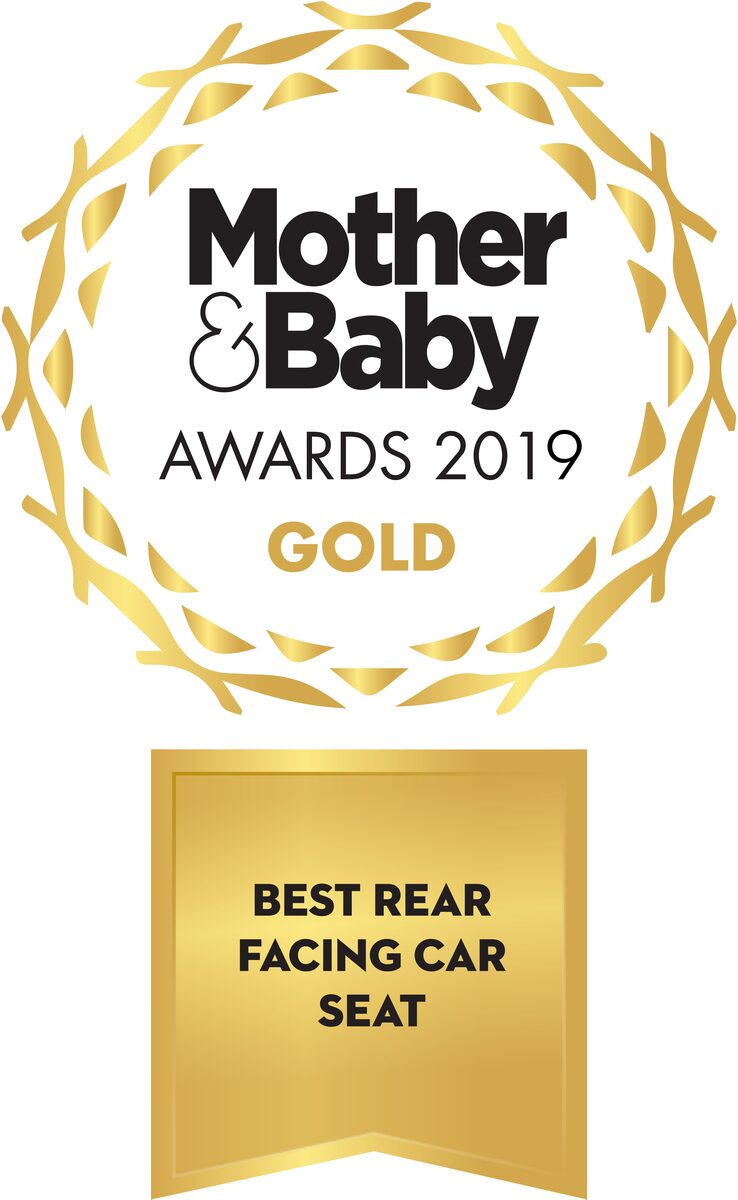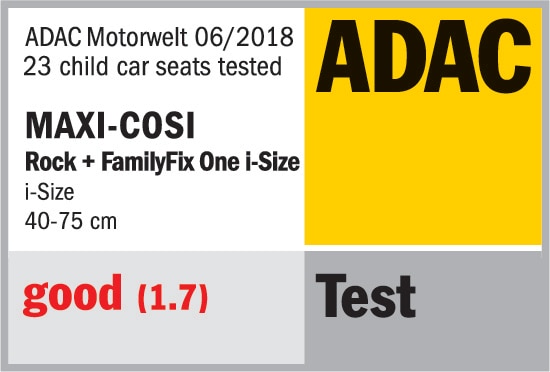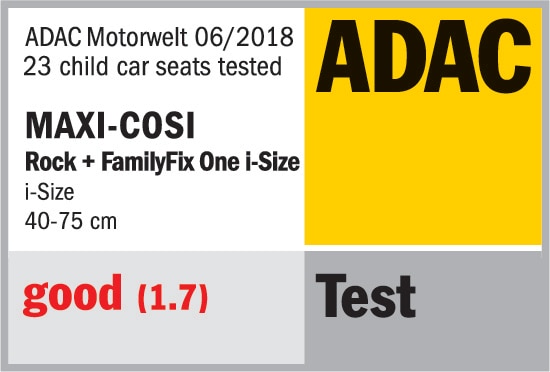 See it in action
Rated

5

out of

5
by
Coviddad2020
from
Easy to use
No issue with that at all. 100% would recommend. Very easy and simple to set up and works well with our silver cross buggy. Just had to get the adapters.
Date published: 2020-11-01
Rated

4

out of

5
by
Sammy
from
Does what it says on the tin
We originally bought the Mica, but that car seat is not suitable for an infant as it barely reclines at all and causes their head to fall forward. So we ended up buying the Rock to keep us going until we feel the Mica is safe to use. The Rock is sturdy and seems to do the job well - we have no complaints. The newborn insert works well, and seems to support our premature baby.
Date published: 2021-04-18
Rated

5

out of

5
by
J Y
from
Fab product for our baby boy!
Bought this as soon to be parents - high quality, beautiful colour & will take us up to a year with a baby boy! Delivery was swift. Can't comment yet on comfortability for our baby, but a friend's tried it out and they loved it.
Date published: 2021-06-12
Rated

5

out of

5
by
Jilly
from
Beautiful Car Seat
We were lucky to find a beautiful red maxi cosi car seat. As no other brand is scoring that high in every safety test, it was clear we would stick with them.
Date published: 2021-06-02
Rated

5

out of

5
by
Hilary
from
Love the colour!
Well constructed. Good supporting infill for early use. Easy to fit securely
Date published: 2021-06-05