Kori Rocker
is rated out of
5
by
9
.
For babies who rock
From birth up to approx. 6 months
0 - 9 kg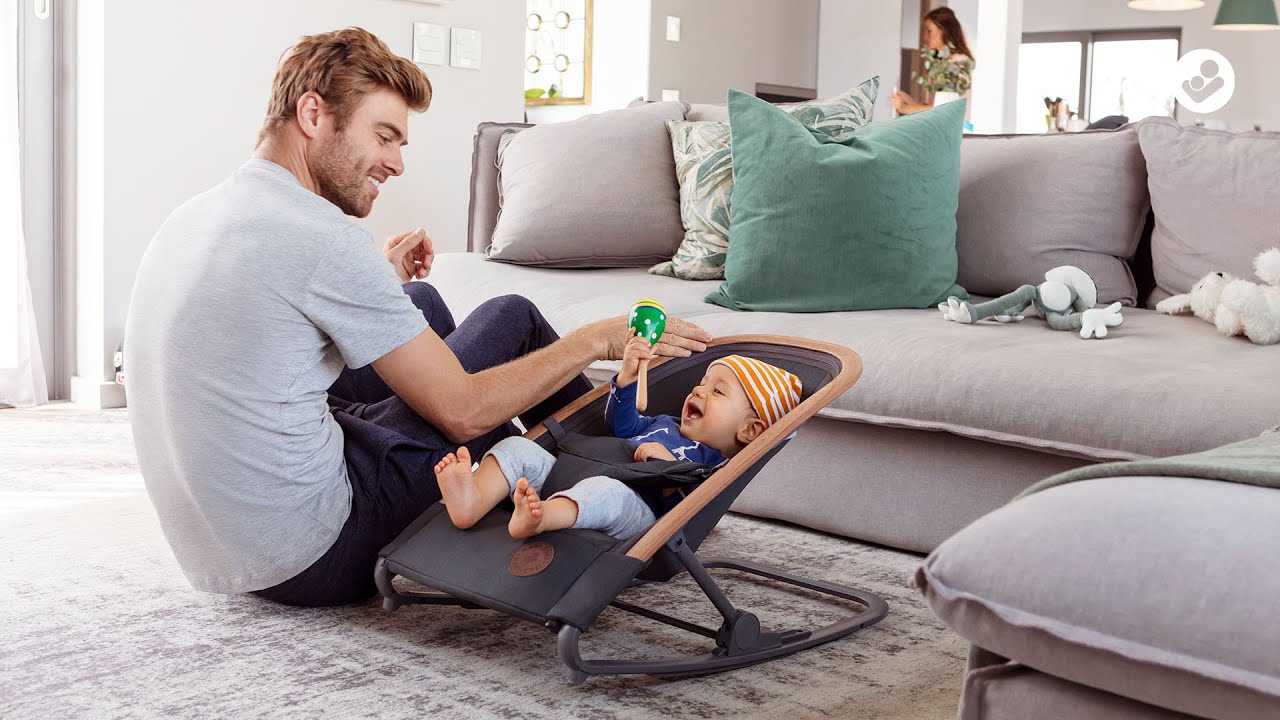 Product description
Do you and your baby need some downtime and a change of scenery?
Meet the new 2-in-1 Maxi-Cosi Kori rocker, for babies who rock.
The Kori is minimalistic, lightweight and supportive, easy to adjust from stationary to rocking, and machine washable. No matter what you need to do around the house, you can rest assured knowing your baby can sit or rock away in peace.
From the first days after birth to many months later, your baby can lay back in luxury or be a part of the action in the Kori. The cosy newborn inlay, made with high-quality soft materials, provides your baby with maximum comfort and support—it's the best seat in the house.
The Kori adjusts to three different positions with just one hand, cleans easily and weighs next to nothing. The Kori's smart design also means you can tuck it away under the bed or behind the couch when you need to. With its attractive and sleek design, however, you may not want to!
No matter where you are in the house, you can always have your baby rocking comfortably by your side. So you can both enjoy some downtime.
Maxi-Cosi Kori. For babies who rock.
Rated

4

out of

5
by
WaferG
from
Great design but still lacking
We were given this seat as a gift, first let me say the quality and design are excellent. It looks very modern and the internal lining is soft and cushioned making you feel more safe when baby's sitting in. The fold flat is great for storage or when older ones want to play and baby isn't using. The leg separator is fairly chunky which looks a little uncomfortable for baby but provides good support. Cons; while the product is great for newborns there is nothing to stimulate baby as they get older which for an item of this cost is a let down. Also every time its picked up to move it goes to maximum incline
Date published: 2020-05-27
Rated

5

out of

5
by
Gem1369
from
Fantastic
I have had this bouncer for nearly 2 weeks. My little one is 4 months and I have no idea how I have survived without it. It is fantastic for weaning as he can still sit up comfortably watching everything as his not big enough for the highchair at the moment. Weaning is a messy job but the bouncer is so easy to clean and that I can take it apart with a zip to put it in the washer is even better. I love putting him in this to have a nap as it reclines which is easy with 1 button. The only issue I have with this bouncer is that I dont find it that easy to lie flat when not in use. It took me a few goes to get used to it as the instructions show you what to do but no words just pictures which I dont think it explains it properly
Date published: 2020-05-24
Rated

5

out of

5
by
bb21
from
Love!
My baby loves this rocker - which is obviously the most important thing! He's so content every time I put him in it. He loves kicking his feet so that he can rock himself. He looks so cute and cozy with the inlay, too. I love how lightweight it is - I'm constantly bringing it all around our house throughout the day. It's so easy to fold up and tuck away somewhere, but honestly I keep it out most of the time because it looks so great and actually matches our couch - it really feels like a piece of furniture. Another reason I love it is because it's so easy to take with us to my parent's house who live close by. I also have the Maxi-Cosi Coral baby seat, and I'm able to carry both the Kori and the Coral (with baby inside) down the stairs and into the car in one trip. It's so convenient, and I appreciate that I didn't need to buy an extra rocker to leave at their house.
Date published: 2021-04-14
Rated

5

out of

5
by
Justine
from
Love the design
What I love the most is the simplicity and the wooden finishing of the Kori: it can rock or stay still. It can be reclined in several positions. It definitely integrates perfectly in our interior (and nicely match our Minla). While I'm only due in 2 months, the Kori already has its place in our living room, and we cannot wait for our baby to rock in it!
Date published: 2020-08-23
Rated

4

out of

5
by
LL1967
from
Very good
Our baby was 6 months old when we got this chair, he took to it right away. He enjoys small naps in it or sitting up with a book in his hand. The recliner feature is very easy to use when he has went for a nap is more comfortable when lowering. Looks great and materials feel good quality. Wish we had gotten it sooner.
Date published: 2020-04-24
Rated

5

out of

5
by
Doots
from
Looks stylish
I have been trying this for a couple of weeks now with my 6 month old and he loves it. Easy to put up and down, great that it has 3 reclining positions and can also use as a rocker or it can be made to be still
Date published: 2020-05-28
Rated

5

out of

5
by
pweeb79
from
Amazing quality
I purchased rocker this 3 weeks ago for my grandson, it's very lightweight, comfortable & folds away easily. My grandson loves it & I would definitely recommend it to friends and family
Date published: 2020-06-06
Rated

4

out of

5
by
SophieP
from
Lovely rocker
Really lovely rocker, my daughter loves falling to sleep in it, the material is very comfortable and, it's really easy to recline with one hand.
Date published: 2020-05-25