Tanza
is rated out of
5
by
3
.
Safe and easy to use highback booster seat
From approx. 3.5 years up to 12 years
From 100 to 150 cm
15 - 36 kg
Why Choose Me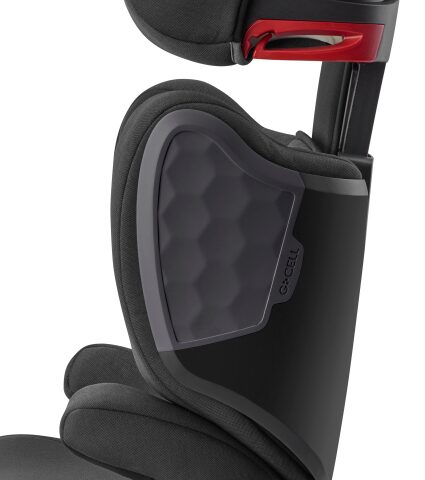 G-CELL side impact protection
G-CELL technology is located on both side panels of the seat and is patented by Maxi-Cosi. It has a specific hexagonal shaped structure absorbing the impact forces and resulting in high performance side impact protection.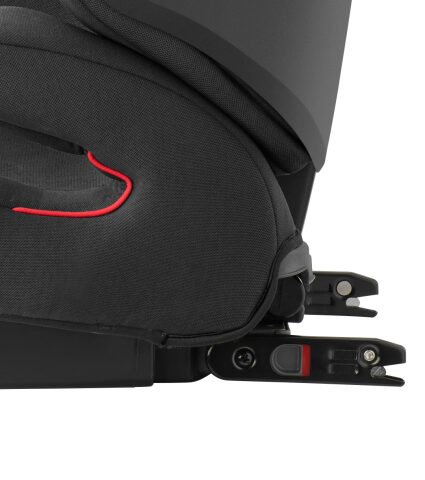 Easy and quick ISOFIX installation
Tanza is equipped with ISOFIX anchorages for an easy and quick installation in the car. It offers great stability even when your child is not sitting in their car seat. Both ISOFIX anchorages have a good installation feedback to be sure that they correctly installed.
Grows with your child
Designed for children from 15 to 36kg (from approx. 3,5 to 12 years old). Tanza grows in height and width to provide more space and comfort to your growing child.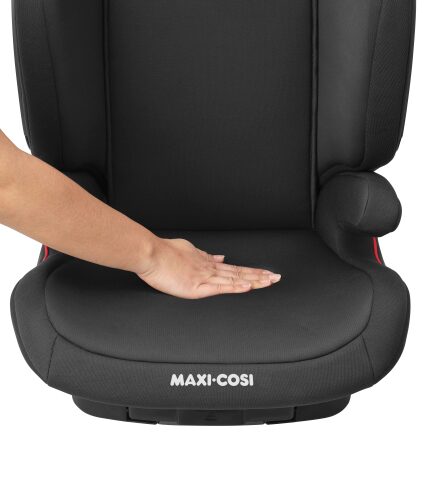 Comfortable seat with extra padding
Tanza has a very comfortable padding in the seat and in the headrest to make sure that each trip is comfortable for your child!
Product description
Installation
Our Maxi-Cosi Tanza car seat offers optimal stability thanks to the sturdy ISOFIX installation. Easily attach the vehicle anchorage points to the connectors of the car seat and enjoy great stability even when your child is not sitting in their car seat. Need to switch between cars? Also, not a problem with this lightweight booster car seat.
After your child hops into the car the extra padding in the seat and headrest offers good comfort to enjoy each journey. The height and width adjustments make it comfortable and safe as they grow.
Safety
Tanza is equipped with Maxi-Cosi's patented G-CELL technology, which is located on both side panels of the car seat. It provides high protection in case of side impact and gives you the peace of mind during every journey.
Additionally, this highback booster car seat has a washable cover to make sure that the best hygiene can be assured.
Safe and easy to use highback booster seat
Before you know it, it is time to buy a booster car seat for your "little" one. But even when your child grows bigger and bigger the safety you want for them never gets smaller. The Tanza highback booster car seat is both safe and easy to use.
You will find Maxi-Cosi expertise in this car seat, like the patented G-CELL Side Impact Technology. The Tanza grows with your child simultaneously in height and width, to provide good comfort for children from approx. 3.5 years all the way up to 12 years. Last but not least, our Tanza car seat is easy to install thanks to its ISOFIX connectors.
Share your Maxi-Cosi moments #myMaxiCosi
Rated

3

out of

5
by
Anonymous
from
Seat was to wide for both our cars
I bought this car seat as my child has now out grown her previous seat. I selected Maxi-Cosi as I have used their products before and is a well respected brand. The seat itself is extremely well made and feels a quality product. Fitting the car seat was an absolute breeze and just clipped into place using the ISOFIX. Unfortunately, and the reason I give this seat a 3 star is that the base is too wide and covers the seat belt clip which is build into my rear car seats. I have a 2016 BMW 3 series which is a family saloon so I would expect it to fit. I also tried the car seat in my wife's Hyundai IX35 which is a large family car but unfortunately had the same issue. I would say that for any car with the seat belt clip built into the rear seat, this car seat does not fit due to the wide base.
Date published: 2020-09-22
Rated

5

out of

5
by
Lorarips
from
So comfortable and versatile, grows with child!
I got this week ago, so happy I did. My daughter in love with this high back car seat. Its so comfortable to sit in, according my daughter-"feels like I'm sitting on air" She's 5 years old, nearly 6,this car seat is great, it extends eather way if u need, providing great shoulders and head support. I'm feeling much more secure when my child sits in it. It also has underneath tray wich is handy for snacks. All in all I would highly recommend this maxi cosi Tanza car seat!
Date published: 2020-09-04
Rated

5

out of

5
by
Reddi
from
Happy and comfortable toddler
I got the car seat a week ago and I'm very happy with it! It's light and easy to handle. Instructions about the Isofix on the car seat should clearly display the need to rotate the Isofix attachments in order to attach it to the car. But once that's done, it's very easy to attach and to adjust into the space. The car seat Itself is very wide and comfortable, the Toddler is enthusiastic about using the adult seat belt vs baby ones and still stays in place when falling asleep during long trips.
Date published: 2020-09-05