Mica Up
is rated out of
5
by
9
.
A new spin on comfort
From approx. 4 months up to 4 years
From 61 to 105 cm
0 - 18 kg
Why Choose Me
360° rotative seat
Easy 360° rotation with one click, for easy child placement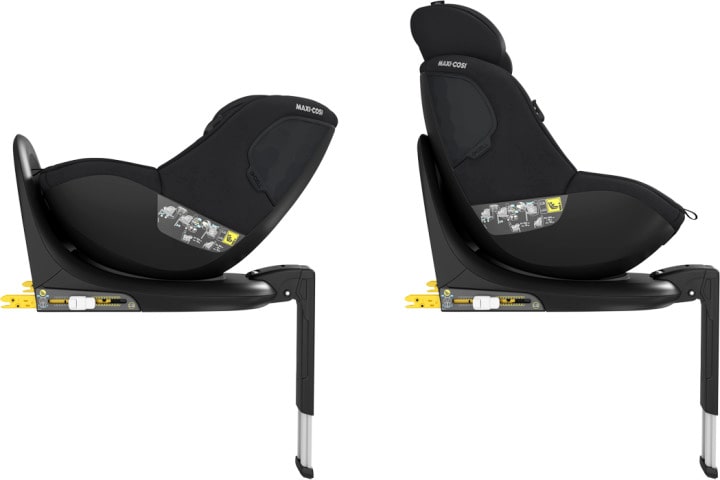 Rearward facing travelling till 4 years
Rearward-facing travel up to 105 cm (approx. 4 years) for enhanced protection of head and neck.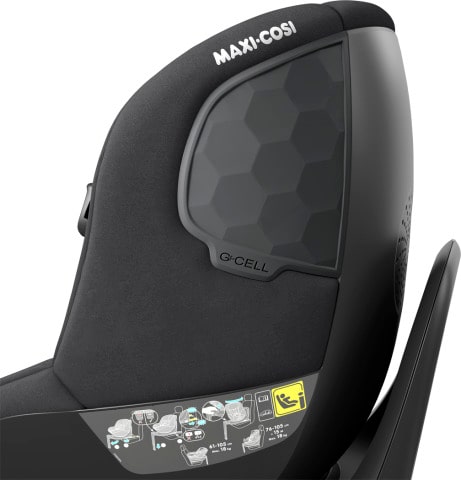 G-Cell technology
Hexagonal shaped cell structure technology provides protection, reducing the risk of injury in case of a harmful side-impact crash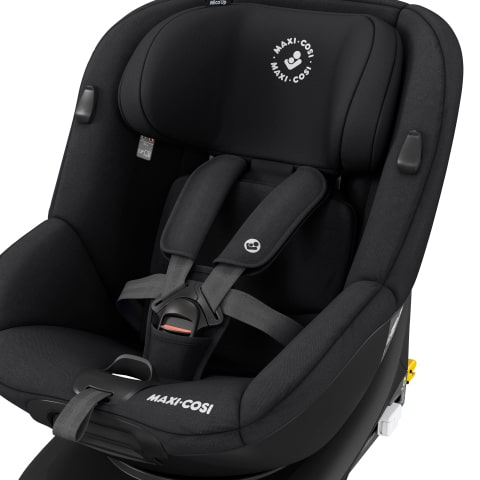 i-Size safety
Complies with the latest safety standards for additional safety
Product description
This rotating car seat makes each trip relaxed and hassle-free for both parent and child. The Mica Up can be reclined in each 360° position, so your little one is always comfortable. It can be used from approx. 4 months up to 4 years, in forward- and rearward-facing positions. For optimal peace of mind, we equipped the Mica Up with both i-Size safety – the latest and highest safety standards – and superior G-CELL technology.
Installation
Our rotating car seat, Mica Up, offers easy ISOFIX installation. And a convenient support leg provides stability even when your child is not sitting in the car seat. Check the user manual of the Maxi-Cosi Mica Up for the correct installation.
The Maxi-Cosi Mica Up has visual indicators that notify you when the car seat is correctly attached to your car's ISOFIX anchor points. When it is secured properly, the car seat can stay in the car. This way taking your little one on a trip is no longer a hassle. All you have to do is position your child and fasten the safety harness correctly.
Safety
We designed our Mica Up rotating car seat not only for the parents' convenience, but also included our most innovating safety technology: G-CELL. This technology absorbs crashes and protects your child against injury in a side collision. Besides that, the Maxi-Cosi Mica Up also complies with the latest and highest safety i-Size standards and your child of up to 4 years can travel easily facing rearward.
A new spin on comfort
Taking comfort and convenience to the next level, the Maxi-Cosi Mica Up turns every trip into a breeze. It allows you, as a parent, to place your little one comfortably using the easy-in crotch pad. The car seat also gives your back a break thanks to the easy one-click 360° rotation capability. The visibility of the five-point harness is ideal, so correct installation is guaranteed!
As your little one gets older, he/she will stay comfortable thanks to the sleeping recline position, headrest with memory foam and built-in back ventilation. Cool and comfortable trips are guaranteed for up to 4 years!
On the road, your child may get car sick, or snacks and drinks may not always end up where they are supposed to be. No matter what happens, Maxi-Cosi's car seat cover can be removed easily and is machine washable.
Share your Maxi-Cosi moments #myMaxiCosi
Rated

5

out of

5
by
Bob94
from
User-friendly en solid car seat
Our child is two years old and this product is very suitable for her. The installation with ISOFIX is very easy en solid. The Maxi-Cosi Mica Up has visual indicators that notify you when the car seat is correctly attached. This make us feel safe. Turning the comfortable car seat is simple because there is a 360° rotation function with one click. This make it easy to place in forward- and rearward-facing positions. The seat is spacious enough for te child, but take up less space than our old car seat with belt attachment. The G-Cell technology is very comfortablefor our child. The car seat is provided with i-Size safety.
Date published: 2021-06-11
Rated

5

out of

5
by
Bradbearnuggy
from
Great piece of kit.
Been testing this for my little one who is a few months old. The i-size safety is helping with the tiny fit. Love the ISO fix and the ease of connecting the item with the visual indicators on to show me it's fitted correctly. Seems comfy enough as she sleeps in it with no issues. The 360 rotation is great for getting her out as leaning over with a bad back isnt ideal, this helps a lot with struggling over a normal seat. We have this in one car permanently and use a small model in our other car which can go into a pram. Maxi Cosi really do make great stuff and at a reasonable price. Has been tested in a VW Polo and a Vauxhall Insignia. Worked great in both. I'm sure we will use this for many years from baby to toddler if it holds out well. Seems like it will do well.
Date published: 2021-06-13
Rated

5

out of

5
by
Anonymous
from
The musthave for every parent (and baby)
Oh boy, do i love this chair! I was looking for the right seat for a while. A lot of carseats who are able to turn 360 degrees were not comfortable for our little boy (9 months) due to the fact that when you place your child in the reversed seat, it couldn't be placed in a good lying position. Researched says it safer to transport your child in a reversed way up to 15 months. Also sitting up is still hard work at 9 months. So!! (Drumroll please) this carseat has it all and I LOVE IT! Also i love The fact you can place The belt in a hook on the chair so you don't have to place your child up on to the belts and trying to pull in from under your child. Especially a sleeping child ;) So to me it's the best, safe and easy to use chair I could get.
Date published: 2021-06-14
Rated

5

out of

5
by
Sté24
from
Love it
We used to have a car seat that couldn't turn. We found it so difficult to find a proper way to easily fit our son into his car seat that we decided to try another one. This chair is really the solution for us! so handy that you can just put him in the seat right in front of you instead of accidentally bumping his head against the door on the ceiling. only I find the button to turn the chair in a difficult place. the button would be better on the front instead of the back and a bit easy to press. otherwise this chair is perfect.
Date published: 2021-06-14
Rated

4

out of

5
by
AmyO1990
from
Overall great car seat!
This seat is great! Only renounced a star as it doesn't quite recline as much as I'd like and I think that may be to do with my car having less space. My little ones seems so comfortable in there, I love how easy it is to get him in and out, the straps are so easy to fasten compared to others I've used and we just love the 360spin! Also love there is a sound alarm if the isofix is in an incorrect position, really puts my mind at ease.
Date published: 2021-07-19
Rated

4

out of

5
by
rkrk
from
Great car seat
I received a Mica Up 360⁰ to test and review and have been using it for the past month. These are my main impressions: + The product is solid, well finished and it does give a very high safety feeling. + The fact that the seat is able to turn sideways makes it much simpler to get a small child in and out of the car - better for the parents and the child. + The fabric used is soft and I would love if adult seats were as comfortable as this one is. - It is BIG. This is not a child seat you can expect to move from one car to another or to use in a taxi. Once installed, it is better to just accept that the seat is now part of that specific car. - I wish the seat had a retractable handle and that it could be removed from its base and used with a pram instead of needing 2 maxi-cosis to go around with a baby. All and all, a great and safe maxi-cosi. Would recommend.
Date published: 2021-06-23
Rated

5

out of

5
by
Andrea_0174
from
Easy to use & great design
We have used the Mica car seat for a few weeks now and are very enthusiastic about its ease to use. I specifically chose the Mica car seat because of the latest safety technology and the rotation capabilities, as our daughter of almost a year old had become a bit too heavy for our Maxi Cosi Pebble which we had used up till then. We have not been disappointed; it is so easy to use! I specifically like how we can keep using this car seat until she is about 4 years old, as you can easily adjust the headrest as she grows. The clips on the sides to hold the seatbelts are simple but effective when you're trying to fasten a very active child. The button to release the seatbelts is sealed with some sort of rubber patch; easy to use and no crumbs that can get stuck between the cracks! The design looks great and the car seat appears very comfortable, even when traveling for a few hours.
Date published: 2021-06-22
Rated

5

out of

5
by
Anonymous
from
Highly recommended this seat
Brilliant chair. Extremely easy to install and use.
Date published: 2021-04-12